Indiana Pacers (1) vs. Atlanta Hawks (8)
Don't be fooled by the seedings, as this is not going to be a walk in the park for the Pacers. Indiana, although going into the postseason with the best record in the East, is far from the best team in the Conference. Their struggles as of late have made them a very vulnerable team, and many including the Hawks have gotten the chance to capitalize off of this. The last time these two teams met, the Hawks pounced on the Pacers in Indy, winning 107 to 88. At one point, the Hawks were up by over 30 points, I repeat, in INDY. The penetration and quickness of Jeff Teague gave the Pacers nightmares, and a bit of a preview as to what may happen in this series. Nevertheless, I predict that this series will ultimately end
4-2
in favor of the Pacers, as the hawks are bound to run out of gas. I do, however, look for the Hawks to surprisingly steal game one.
Miami Heat (2) vs. Charlotte Bobcats (7) This series, to me, is the one most likely to be a blow out (Hey, remember LeBron's 61?). I had initially picked Charlotte to at least win game 3 on their homecourt, due to Big Al's paint dominance; however, I reconsidered my prediction simply because one man (or even two if you include a stellar game from Kemba) is unlikley to beat the Heat. The Bobcats don't have enough weapons to give the Heat enough of a problem to constitute a win. The Heat simply have too many weapons for the Bobcats to deal with. If they turn it up defensively, it's going to be a long...long series for Charlotte. With that being said, I pick the Heat to
sweep
the series and proceed to rest up for the next round. Need I say more?
Toronto Raptors (3) vs. Brooklyn Nets (6) Upset Alert! Yes, like most people, I too believe that Brooklyn will get the better of the Raptors in what is promised to be an exciting series to watch. The Raptors have had an excellent season, reaching heights that nobody expected them to be capable of; however, I believe that the veteran expertise of the Nets will ultimately overcome the youthful exuberance of the raptors. I expect the Raptors to win game 1, feeding off of the energy of their playoff deprived fans. I do, however, expect Brooklyn to silent the noise and steal game two, and ultimately win the series
4-2.
This promises to be a very competitive series in regards to scores; more competitive than the 4-2 prediction would indicate. Expect the intensity of a 7 game series each game, as each is likely to be a nail bitter.
Chicago Bulls (4) vs. Washington Wizards (5) I have no gut feeling when it comes to this series. A part of me thinks the Wizards will prevail; another part thinks that the Bulls will pull through. If this were to go to a 7th game, I'd pick the experience of the Bulls; however I don't think this series will go that far. I pick the young energetic Wizards to close the deal in 6. Although the Bulls are known for their dominant defense as well as their well structured system, the Wizards are simply more talented. I have little faith in the ability of the Bulls to keep up with the scoring of the Wizards. Although they'll most likely dictate the pace, they do not have a go-to guy if they really need a bucket down the stretch (no offense to Noah, Boozer, DJ or anyone who may take offense to this...although if anoyone Taj should be offended by this); whereas the Wizards can rely on John Wall to create plays for himself or others, or Bradley Beal to create his own as well. I see this series going to 6 games with the Wizards winning
4-2
.
San Antonio Spurs (1) vs. Dallas Mavericks (8)
Dallas is undoubtedly disappointed to have lost the season finale to Memphis, as that would've given them a shot at the OKC Thunder; a team that they match up well with. Considering the turn of events nonethless, I think the Mavs have fallen into a very unfavorable match-up against the well-oiled machine Spurs. The Mavs simply have no shot. The Spurs are just way too structured and disciplined to beat themselves; which is the only way the Mavs could win against San Antonio, as they are simply not good enough to do so themselves. I expect Dirk and Monta to have a good series; however, those two cannot outdo the entire Spurs gang. Considering the Mavs are not necessarily a good defensive team, I don't see them stopping the Spurs, and they're certainly not going to outscore them in 4 games. I expect the Mavs to win game two (yes, in San Antonio); however I see this series ending in 5 with the Spurs winning
4-1
.
Oklahoma Thunder (2) vs. Memphis Grizzlies (7)
Weird to say, but Memphis would have been better off getting the lower 8th seed and playing the Spurs. I saw that as a much more favorable matchup for them as opposed to the Thunder. Regardless, I think they'll do OKAY against the Thunder; however not good enough to win the series. The MVP will do his usual damage, and I expect Westbrook to flourish as well. Gasol and Randolph will give Perkins and Ibaka enough trouble to get Memphis two wins at home, plus KD is bound to have at least one bad shooting night. This will however be it for the Grizzlies; OKC should have enough to get by, winnig the series
4-2.
Los Angeles Clippers (3) vs. Golden State Warriors (6)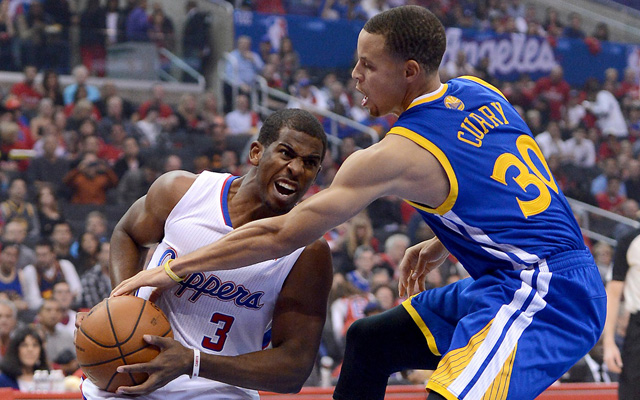 This series is bound to be the most exciting out of all the first round match-ups. Just think of this: Chris Paul vs. Steph Curry, Blake Griffin vs. David Lee, Klay Thompson vs. Jamal Crawford, Andrew Bogut vs. DeAndre Jordan, Marc Jackson vs. Doc Rivers, dunks vs. 3 pointers, Lob City vs. the Splash Brothers. So many beautiful match-ups within this heated rivalry. I believe that this is going to be one of those series where the home team wins each game; hence the Clippers winning
4-3
in exiciting game 7 fashion. Both teams are extremely talented and deep, which makes for a competitive series. I do however think that the Clippers are more balanced, and the better defensive team. The bench is really the key: can the Warriors bench produce enough to nullify the production of Jamal Crawford and Darren Collison? I don't think so. I do however think that the Oracle Arena fans will produce enough energy to ignite some stellar shooting performances by the Warriors in at least 2 games. Look for the series to go to at least a game 6, but hopefully a game 7 for us hoop lovers.
Houston Rockets (4) vs. Portland Trailblazers (5) This is another series which features two evenly matched teams: both with a "dominant" inside scorer, and a host of productive peremiter shooters. In fact, these teams are so evenly matched that I wouldn't be surprised if this series also went to a game 7, although I do not expect that to be the case. In the first 5 games of the series, I expect the home team to conventionally defend home court; in game 6, however, I expect James Harden to go off and have a 40+ type performance and kill any chances of the series going back to Houston for a game 7. I expect Harden to have one of those "Wow, did you see that game" type of performances that will have the whole league in awe for a couple of days. That is what I believe it will take for the Rockets to ultimately win the series and advance
4-2.
Photo Credits:
www.zimbio.com
fansided.com
fansided.com
wizofawes.com
dallassportsfans.com
sbnation.com
cbssports.com
ripcityproject.com